How to Create Amazon A+ Content
To achieve success on Amazon, it's widely acknowledged that setting yourself apart from your competitors is essential. Leveraging the array of tools and features Amazon offers its sellers presents a valuable opportunity to consistently enhance your product listings and boost sales.
A+ Content enables you to offer a comprehensive product description, complete with captivating visuals and informative infographics. This empowers customers with a deeper comprehension of the product's attributes and advantages, facilitating well-informed buying choices. As a result, it enhances customer satisfaction while reducing the occurrence of unfavorable reviews or returns
Among the highly potent features available, the capability to craft Amazon A+ content descriptions stands out prominently. Crafted with the intention of grabbing the viewer's attention, A+ pages prove to be a formidable asset in elevating your conversion rates, strengthening your brand presence, and ultimately driving higher sales figures.
Here is a quick peek into the article
What is Amazon A+ Content?
Amazon A+ Content, found within Seller Central, is an exclusive resource empowering brand proprietors to craft visually captivating product narratives for their Amazon listings. Previously recognized as Enhanced Brand Content, A+ Content is accessible to both brand-registered third-party sellers and vendors alike. Remarkably, this premium content capability is presently complimentary for creation.
Lacking this tool confines you to a mere 2,000 characters without the ability to incorporate images or graphics into your content. The result is an uninspiring wall of text that few would prefer to navigate through.
Which would you prefer to engage with?

Or this?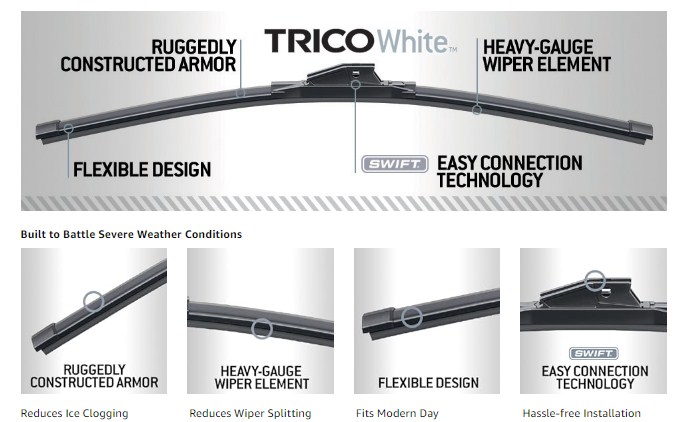 As you can see, A+ Content provides you with different modules so you can completely customize the look and feel of your Amazon product descriptions — keeping your potential customers engaged.
What is Premium Amazon A+ Content?
n essence, Premium A+ Content represents an elevated iteration of the A+ content accessible to Brand Registered sellers. What was once predominantly an option for Vendors or those utilizing Amazon Launchpad has now become a complimentary offering for third-party sellers on Seller Central, provided they meet specific criteria.
Distinguished as A++, Premium A+ Content boasts additional interactive content features, larger imagery, enhanced comparison charts, carousel modules, and even incorporates video modules. In comparison to the foundational A+ Content, it signifies a substantial advancement.
What are the qualifying conditions for accessing Premium A+?
To gain eligibility for utilizing Premium A+ Content, sellers must fulfill the following criteria:
    Every ASIN in their catalog must include a published A+ Brand Story.
    A minimum of 15 A+ Content project submissions should be in "Approved" status within the preceding 12 months.

Features of Premium A+ Content
What features are included in Premium A+ Content that is not included in the Basic A+ Content?
Interactive hover hotspot modules
Multiple video modules
Enhanced comparison charts
Larger images on the detail page
Carousel modules
Q&A module
A+ Content: Basic vs Premium Comparison Guide
| | | | | | | | |
| --- | --- | --- | --- | --- | --- | --- | --- |
| A+ Content Type | Text & Images | Image Size | Comparison Chart | Allowable Modules on Detail Page | Module Selection | Video & Hotspot | Navigation Carousel |
| Basic A+ |   | 970 x 300 |   | 5 | 14 |   |   |
| Premium A+ |   | 1464 x 600 |   | 7 | 19 |   |   |
Basic vs Premium Comparison Guide
Differences between Amazon A+ and Amazon Premium A+ Content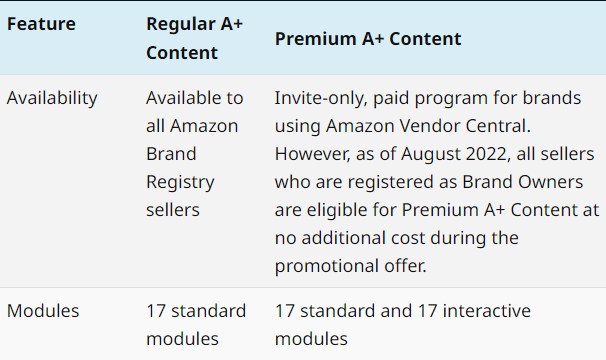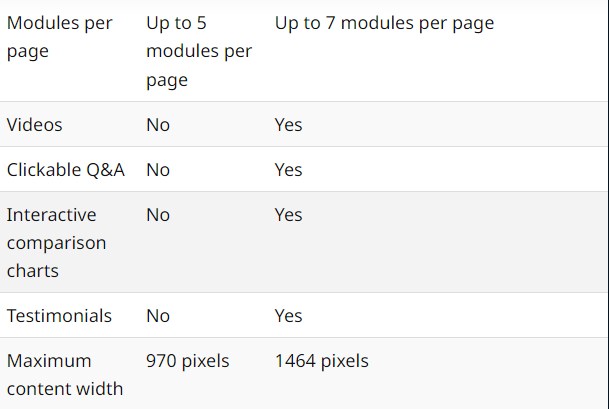 Benefits of Amazon A+ Content
Crafting A+ Content for your product listings extends beyond individual items; it contributes significantly to bolstering your brand's overall presence. Your products gain a competitive edge, adorned with compelling text and images that seamlessly weave potential customers into your brand's narrative.
Boost Conversion Rates by 3%-10%:According to a study commissioned by Amazon, employing an A+ Content description results in an average conversion rate increase of 5.6%. To put it into perspective, if your non-A+ listing converts 10 out of 100 visitors, upgrading to A+ Content elevates the conversion rate to 15.6%. In essence, you're converting an additional five to six individuals out of every 100—a significant enhancement. Higher conversion rates mean more sales and improved rankings, all achieved with the same traffic volume. While especially beneficial for top-selling and high-traffic products, A+ Content might require complementing strategies, such as a robust PPC campaign, for newly launched items. A well-optimized PPC campaign, when combined with a higher-converting listing, leads to a reduced ACoS (Advertising Cost of Sale), gauging the efficiency of your campaigns.
Minimize Returns and Negative Reviews: A+ Content provides a platform to delve into intricate details about your product, incorporating images and infographics for a comprehensive understanding. By elucidating features, benefits, and specifications, you guide customers toward informed purchasing decisions, potentially reducing returns and negative reviews. When coupled with a strategic review approach, A+ Content contributes to cultivating positive reviews.
Showcase Products in Detail with Customizable Modules: Amazon's allowance for numerous images and modules in your description enables your product to shine uniquely. The 17 diverse module options offer a comprehensive view of your product from every angle. This presents an excellent opportunity to employ creative graphics, captivating shoppers and enhancing engagement.
Narrate Your Brand's Story: Specialized content like A+ Content provides a platform not just for selling the product but for promoting your brand. Elevate brand awareness by educating customers about your products, sharing your brand story, and articulating why choosing your brand is worthwhile. Establishing authenticity and trust can foster customer loyalty and encourage repeat business.
Enhanced Readability:Crafting Amazon product descriptions with A+ content ensures a visually appealing, easy-to-read format. The combination of coherent structure and engaging images prevents customers from hastily scrolling through crucial information, facilitating a more thorough consideration of your listing and increasing the likelihood of making a purchase.
Who is eligible to create Amazon A+ Content?
To utilize A+ Content, it is imperative that your brand is officially registered within Amazon's Brand Registry Program.
Eligibility Criteria:
Brands must possess a registered and currently active textual (word mark) or image-based trademark (design mark). Additionally, this trademark should be visibly present on your products or their packaging.
Applications for Brand Registry must be submitted by the owners of the trademark.
Enroll your brand.
For further details, please refer to Amazon's eligibility page.
Upon Amazon's approval of all your provided information, you are prepared to commence crafting Amazon product descriptions using A+ Content for your enrolled brand. Notably, this feature is offered at no cost!
Note: When initiating a new product listing, ensure that the brand name you input precisely matches how it is registered in the brand registry.
How to create Amazon A+ Content
Once you've completed the registration process, you can begin creating your A+ content. 
Step 1:
In seller central, hover over Advertising > A+ Content Manager.

Step 2:
Click 'Start creating A+ content'.

On the next page, you'll be able to select the type of A+ Content you would like to create. You have the option to create a basic "Enhanced Product Description" or a "Brand Story."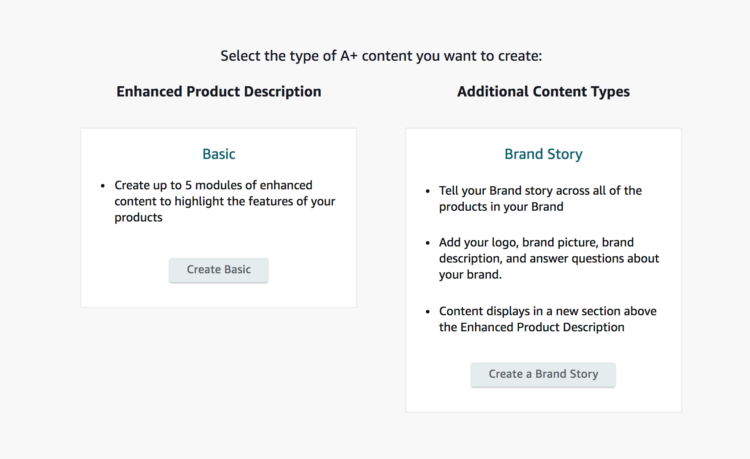 With Basic enhanced content, Amazon states you can add up to 5 modules to your A+ Content (though it still allows you to add 7).
With a Brand Story, you have the ability to tell your brand's story across all your brand registered products on Amazon. You can add both a "Brand Story" and an "Enhanced Product Description." The Brand Story section will appear above your basic A+ Content.
Step 3:
Add content name and language. 
For this example, we're going to create a Basic A+ Content description.

Step 4:
Then, click 'Add Module'.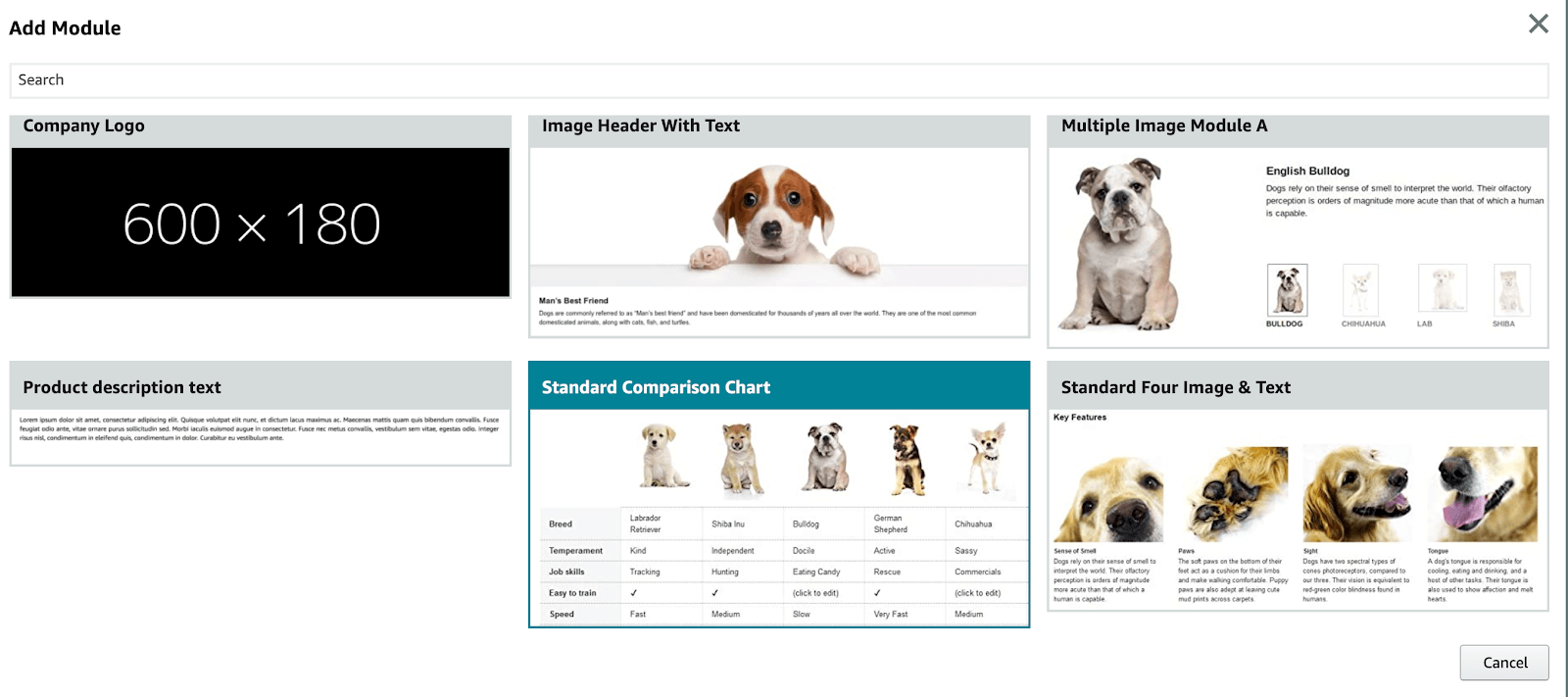 Step 5:
Choose your modules.
You are allowed to add up to seven modules for your A+ content. Here is my preferred layout:
Module 1: Logo
Module 2: Image Header With Text – Large 970 x 600 pixel image that talks about the brand, product etc. You can also add in text below the image to talk more about brand story
Module 3: Standard Image & Dark Text Overlay – Create a 970 x 300 pixel banner graphic that stands out (text box is optional)
Module 4: Standard Single Image & Specs Detail – Add one 300 x 300 pixel image and important product info/specs
Module 5: Standard Single Left Image – Talk about main feature or benefit. You can add one 300 x 300 pixel image and text
Module 6: Standard Single Left Image – Talk about the second main feature or benefit. You can add one 300 x 300 pixel image and text
Module 7: Standard Three Images & Text – This is a great spot to talk about other features or benefits of your product
I like this layout because the images and text flow well; it's easy-to-read and doesn't look crowded, especially if you have a lot of features and benefits to talk about. Of course, this is just my preference, you can do whatever looks best for your brand.
You can choose a right side image, four-image quadrant, multi-image module, and more. Customize however you'd like!
Note: The comparison chart is great if you have other products in your brand. The best part is, you can link directly to those product listings. 
Step 5:
Apply to your ASIN(s).
Step 6:
Review and submit for approval.
Before you start writing your content, refer to Amazon's A+ Content Guidelines to ensure you do not violate any of their terms. If you include information that is not allowed, it will delay the approval process, which can take up to seven days. 
Do not include any special characters such as trademark or copyright symbols
Do not include any language such as guarantee, best-selling product, etc.
Proofread before submitting and make sure there are no spelling errors
Do not mention your competitors or another brand name
Do not repeat a word too many times
Make sure image resolution is clear
Do not include any links or references to your own website
Image size requirements to keep in mind:
Logo: 600 x 180 Pixels
Banner: 970 x 300 Pixels
Comparison Chart: 150 x 300 Pixels
Four-Image & Text Module: 220 x 220 Pixels
Four-Image Quadrant: 135 x 135 Pixels
All others: 300 x 300
Make sure to check each module before you create any images.
After you create your content, the next step is to apply ASINs. After you choose which ASIN(s) this A+ page is going to be applied to, you will need to submit it for approval.
Again, this process can take up to seven days and if something is incorrect, you will have to fix the error and resubmit your listing for approval.
Encourages better reviews and customer feedback
A+ Content empowers you to furnish a comprehensive portrayal of your product, incorporating captivating visuals and infographics, enhancing comprehension of its features and advantages.
This facilitates customers in making well-informed purchase decisions, culminating in heightened satisfaction and a reduction in unfavorable reviews and returns.
Furthermore, executing a well-crafted campaign opens avenues for accumulating positive reviews and valuable customer feedback for your products. To effectively showcase these Unique Selling Propositions (USPs) using A+ content, consider employing diverse A+ content modules:
Comparison Chart: Present a comparative chart illustrating how your earbuds outperform other brands in crucial aspects such as battery life, noise cancellation, and water resistance.
Infographic: Create an infographic that visually communicates the simplicity of pairing your earbuds with various devices and its adaptability to diverse environments.
Image Gallery: Utilize an image gallery to highlight the array of colors and designs your earbuds are available in, showcasing how they snugly fit into the ear.
Text Block: Incorporate a text block elucidating the technology underpinning your earbuds, elucidating how it contributes to delivering superior sound quality.
Enhances Recognition of the Brand

The term "brand awareness" denotes the extent to which customers are acquainted with and recognize a brand, influencing factors such as customer loyalty, referrals through word-of-mouth, and choices made during purchases.
Through the utilization of A+ content, vendors have the opportunity to enlighten customers about their products, foster brand allegiance, boost conversion rates and sales, and expand their reach to a broader audience.
As an illustration, Burt's Bees, a brand committed to sustainable personal care, leverages A+ content to present its brand philosophy, highlighting principles such as sustainability, the use of natural ingredients, and environmentally conscious packaging.
A+ Content best practices
To ensure that your A+ content is up to the mark, make sure to adhere to the following best practices before submitting it:
Avoid repeating text unnecessarily on the A+ content.
Utilize the Brand ASIN and Store Showcase module in Brand Story and the Standard Comparison chart in Enhanced Content to link up to 10 ASINs to your listing.
Check for typos, spelling, grammar, and consistency errors to ensure a professional appearance.
Invest in high-quality graphics and product photographs that showcase the product. 
Do not attempt to break Amazon A+ content guidelines by offering incentives for reviews or providing contact information.
Remember that buyers want to purchase from Amazon, so focus on promoting your product within Amazon's guidelines.
How to optimize Amazon A+ content for maximum conversion
Just creating A+ content is not enough. You need to employ several strategies to optimize the A+ content and maximize the conversions. Here are some of them:
Break down product features into easy-to-digest content
Not all products are simple. Some products have multiple functionalities and solve multiple problems of the customers, for example, home appliances, electronic gadgets, etc. 
If you're selling such products, customers may not understand all the technical jargon.
Here, use the A+ content to explain different complicated functionalities to the customers in an easy-to-understand format. 
Proofread your content before submitting
As said above, Amazon takes up to 7 days to approve your content. However, usually, they do it much quicker than that. So, ensure you proofread your content before submitting it. For some reason, if your A+ page is published and later, you find that there is a grammar mistake, you will need to submit the page again. Now, this means that your error runs live for a week.
Incorporate keywords in your alt text
Amazon doesn't index keywords in the A+ content. 
However, Google indexes these keywords.
So add relevant keywords in the A+ content alt text so that it shows up in Google Search results, which can bring in external traffic to the listing. 
Answer common customer questions on the A+ content
A+ content usually helps shoppers make data-driven purchasing decisions. 
One way to do it is by identifying the common customer questions and answering them upfront on the A+ content. 
If using premium A+ content, you can also add a separate FAQ section in the listing that not only highlights the product features but also answers the most commonly asked questions about the product. It dials up customer engagement and maximizes the chance of getting positive reviews. 
Stand out among your competitors
In the world of sales, it's not enough to simply talk about your products – you need to show the USP to stand out from your competitors. 
This is where A+ Content comes in handy. By utilizing A+ Content, you have all the tools to demonstrate your product's USP to shoppers, ultimately setting yourself apart from your competitors.
Think about it like this: if you were looking to purchase a car, would you choose the car based on the dealer's words? or would you take a test ride on the car, experience it first, and then decide?
It's likely that you'd choose the latter.
Shoppers apply the same logic when making purchasing decisions. 
When a shopper browses a product, and they see your competitor only describing their products in a bland 5-point bullet, and you are using A+ content to effectively highlight your products' features and benefits, who do you think customers are most likely to buy from?
Naturally, they'll gravitate toward your product over your competitors. 
Use storytelling in the A+ Content
Want to get more conversions with your A+ content?
Then leverage storytelling in your A+ content to breathe life into your brand and stand out in a crowded marketplace.
Your brand is more than just a product. It has a unique personality and values. Storytelling in A+ Content allows you to showcase the human side of your brand, making it relatable and building a deeper connection with your audience.
Research by Headstream reveals that if people are engaged with a brand story, 55% of them are more likely to purchase the product from the brand in the future, 44% will share the story, and 15% of the shoppers will buy the product immediately. 
By creating a brand story, you can turn your customers into fans who will likely keep coming back to you.
How to test Amazon A+ Content?
By now, you already know almost everything there is to know about A+ Content. 
Now it's the time to test different A+ content strategies to see what converts best for your product. Here's how: 
Track the 'Unit Session Percentage' and sessions
The "Unit Session Percentage" metric can be calculated by dividing the number of units sold during a specific time frame (i.e., sessions) by the number of people who visited your listing during that same period. 
It helps sellers understand how effectively the listing converts potential customers into buyers. 
Units sold / Number of sessions = Unit session percentage
Can you edit A+ content once it is published? 
Yes, you can edit A+ content once it is published from the A+ content manager dashboard in the seller central account. 
But you need to resubmit the new A+ content for approval, and it may take up to seven business days for the changes to reflect on your product detail page.
Final thoughts
Amazon A+ content is a great tool to maximize the conversion rate of your product. However, 
it may require some upfront investment of your time and money. 
But, if you look at the ROI, that investment is well worth it for your brand's long-term growth. 
So, If you're a brand-registered seller, take advantage of A+ content to grow your business multifold.